The Confidence To Guarantee!!
When you join us at Eco Electric Solutions, you can Invest with confidence because you'll always be covered by our money-back guarantee. In the extremely unlikely event that we don't achieve the target outlined within your solar system proposal.
Combined with our extended 15-year workmanship warranty. We will go to enormous lengths to make sure our customers are satisfied with their solar system.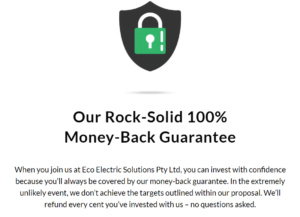 Renewable energy is the future.
We are enthusiastic about renewable energy and continue to provide our customers with high-quality solar solutions to suit their individual needs. Eco Electric Solutions is a small business that is locally owned and operated.
It was started in 2019 by Christopher Andersson. Christopher is passionate about the industry and is dedicated to providing outstanding service along with his team at Eco Electric Solutions.